Grammy-nominated musician/producer and world-renowned drummer Quentin E. Baxter presents an amazing three-concert series, designed to inspire the students at the College of Charleston, initiate jazz outreach to all students throughout the Lowcountry, and increase community interest and support of the College's jazz program.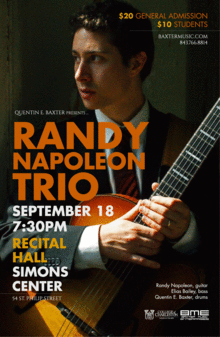 The first concert highlights the RANDY NAPOLEON TRIO on Sunday, Sept. 18, 2016, featuring sensational jazz guitarist Randy Napoleon, with Elias Bailey on bass, and Quentin E. Baxter on drums.
The remaining two concerts in the series are CHAMPIAN FULTON QUARTET on Oct. 12, 2016 and QUENTIN BAXTER QUINTET on Dec. 4, 2016.
The series will take place at 7:30 p.m., at the Recital Hall in the Simons Center for the Arts, 54 Saint Philip St. Tickets are $20 general admission / $10 for all students and are available at www.baxtermusic.com or 843-766-8814.
Co-Sponsored by BME, LLC and the College of Charleston's Department of Music
Known as a forward-thinking musician with a passion for the jazz tradition, Randy Napoleon tours with the legendary singer/pianist Freddy Cole and leads his own trios, quartet, and three-horn sextet. He is a composer and arranger for singers, big bands, and small combos. He arranged and performed on Cole's 2010 Grammy-nominated release "Freddy Cole Sings Mr. B" and most recently "He Was The King" (High Note).  He also performed on Cole's "Live at Dizzy's Club:  The Dreamer In Me," "Talk to Me," "This and That," and "Freddy Cole Sings The Blues."
Prior to joining Freddy Cole, Napoleon toured and recorded with the Clayton-Hamilton Jazz Orchestra, toured extensively with pianist Benny Green and crooner Michael Buble.  He is featured on Buble's Grammy-nominated CD "Caught in the Act."
Currently based in East Lancing, Mich., Napoleon is an Assistant Professor at Michigan State University, where he teaches jazz guitar. He is celebrating his fourth album release to date – "Soon."  The album features Napoleon in the classic guitar trio format with bassist Rodney Whitaker and drummer Gregory Hutchinson. Also featured on the album are two duet arrangements with trumpeter Etienne Charles.
---
"I like the guitar player who's playing with Freddy Cole [RANDY NAPOLEON]. He has an all-fingers approach; he doesn't use just thumb or pick. He's spectacular!" – George Benson
"[NAPOLEON] plays with a gentle, purring tone that makes you lean in close to hear its range of color and articulation." – Mark Stryker, Detroit Free Press
"He displays an even balance of swing, soul, and single-line or chord elements that mark an emerging voice dedicated to tradition and universally accessible jazz values." – Michael G. Nastos