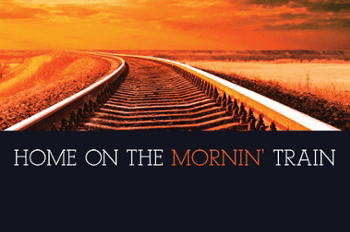 This week, the Department of Theatre and Dance in the College of Charleston School of the Arts will open Kim Hines' moving drama, Home on the Mornin' Train.
The kindness of strangers amidst great danger has kept the Underground Railroad alive to this day. In this play, the audience sees the freedom train in action as two stories unfold a hundred years apart. In 1939 as World War II begins, young Jews escaping Germany find inspiration in a book about the journey of young slaves escaping the South, in 1839. Intertwined in their stories are beautiful African American and Jewish songs that speak to a legacy of hope through the ages. Their stories stand as a testament to the unimaginable courage to reach out and help no matter one's color, one's beliefs or one's station in life.
Director and Music Director of the production, Laura Turner, describes the drama, stating, "Unlike most scripts dealing with Slavery or the Holocaust, this play chooses to focus on the brave work done by those willing to risk their lives for freedom. Instead of dwelling on the horrible circumstances of the characters' situations, this play's uplifting music and surprising moments of humor, takes the audience on a journey of hope."
DETAILS: The production will take place Thursday, March 12 through Sunday, March 15 with a second run from Wednesday, March 18 through Sunday, March 22. The performances will take place at the Chapel Theatre, 172 Calhoun St. Performances will begin at 7:30 p.m, except the Sunday shows, which will take place at 3:00 p.m. only. The performances on Saturday, March 14 and Saturday, March 21 will take place at both 3:00 p.m. and 7:30 p.m. Tickets are $10 for College of Charleston students, faculty/staff, and senior citizens and $15 for the general public. Tickets can be purchased online at theatre.cofc.edu, or by email or phone (843) 953-6306.