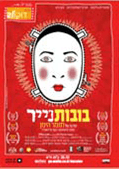 October 6 –  PAPER DOLLS (Bubot Niyar) (2006, 80 min) This documentary delves into the lives of societal outcasts searching for freedom and acceptance. Follow the lives of transgender migrant workers from the Philippines who labor as health care providers for elderly Orthodox Jewish men and perform as drag queens during their spare time.
All films start at 7:00pm, and will be shown in Arnold Hall.
Popcorn and refreshments will be served.  Screenings are free and open to the public.