The act of creating art in public spaces is a key way to bring important issues to the attention of large audiences. A good piece of art can be moving, stimulating, even disturbing, but most of all, it should provoke thought. The installation by PPC Artist Ally Alvaro Soler Arpa, Vida Tóxica (Toxic Life), encompasses all of these traits. Millions of travelers will be confronted with the issue of global plastic pollution as they pass through Espai Merce Sala Metro station Diagonal in, Barcelona, Spain, and at Terminals 1 and 2 of the city's airport, El Prat de Llobregat, 08820 in Barcelona, Spain.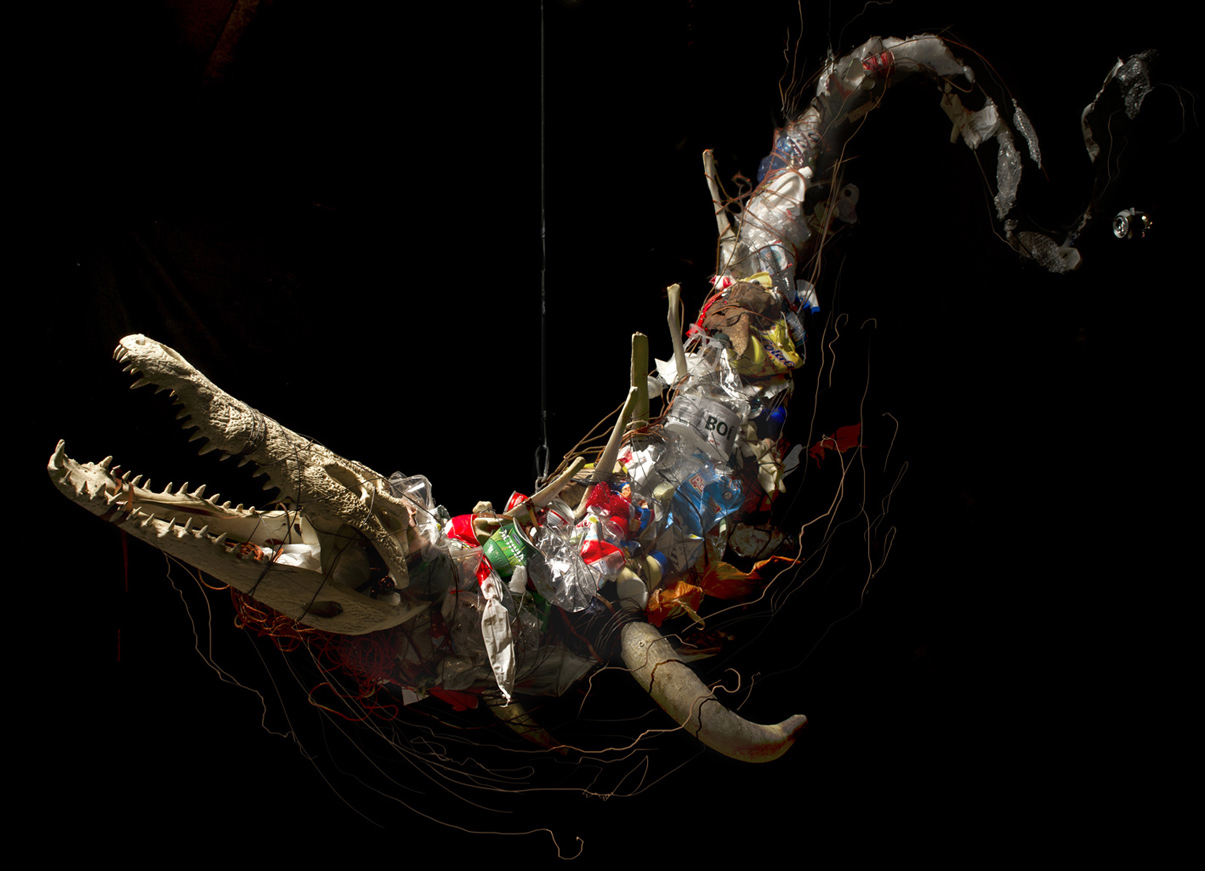 Throughout Soler Arpa's universe, there are numerous animal bones, wires, and even our own waste, plastic, and rubbish that are used to create these fictional creatures. An ordinary bone becomes something extraordinary when he joins it with another bone, adds plastic to it and slowly it becomes a work of art. By doing so, he is making a political statement about plastic pollution and climate change. His concept of "contemporary dinosaurs" is inextricably linked to fossil fuels, the common element that links plastic pollution to climate change. In total, he created fourteen sculptures using bones and plastic waste to illustrate how runaway plastic pollution is affecting ecosystems and individual animals. Plastic pollution negatively impacts animals across the food chain, as approximately eight million tons of plastic are discarded each year. Throughout human history, our environment has been destroyed continually, and he represents the state of the world we have created. Ultimately, the materials that Arpa chose for the final work as a whole, directly reflect the overall agenda of the message he was trying to get across.
In order to effectively show how plastic pollution affects our environment and the animals in it, Arpa displays this model to show the audience the dense amounts of waste and plastic pollution within our environment. He also shows the results of society's irresponsibility and human actions which have damaged our Earth.  The work he produces emphasizes the need for addressing global plastic pollution. Arpa's purpose is to make people aware of the pollution on our planet, and he does a great job at showing that.
Despite my belief that it can be easy to agree with an issue of any kind, trying to influence someone cannot be easy, and I feel that Arpa nails all those components trying to influence people who see his work. He uses plastic to make these animals as a way to show how plastic pollution has affected the planet. This work incorporates material that explores the impact plastic has on the environment and lives within it. Arpa's agenda was very specific, noting that "What I'm aiming for, is to draw people's attention to the pollution of our planet. We, humans, are so proud of our rationality and have done great things, but for about a century we have also been the dirtiest animal in all the history of creation. The cancer of the Earth is becoming irreversible…."  
In addition to capturing an objective or message, art can also create an impact on society as a whole by serving as a medium for presenting it. It is often art that pushes people that require an improvement in their realities because it shows a new perspective in all economic, cultural, and political aspects in our society. Additionally, I feel like the media can be biased because a lot of the media focuses on certain scenarios and doesn't show the full scope of the problem of plastic pollution. In addition, I feel like it gives the people what they want to see and does not present the whole picture. Therefore, by showing it through art, we are able to explain what might otherwise be difficult to convey with the media. I also believe that even if people show the horrible impacts of plastic pollution in many different ways, nothing will change unless everyone takes the time to address this problem. It can also be challenging especially with businesses that use plastic materials. So even showing this art, hopefully, makes a difference and helps people even try to find alternatives for plastic. 
As someone who loves to paint and draw it is nice seeing how much an impact someone else's work can really affect a person. It can show a whole new message to people and I find it fascinating. I really do think it is important to take what you see through art and try and also make a change for a bigger and brighter future. Let's help make the change.