One company that is on the path for long-term success when it comes to sustainability is Burt's Bees lip balm. They not only save my lips from October to February, but they are also saving the environment, and giving back in their community one tube of chap stick at a time. In 2012 Burt's Bees set a number of objectives they want to reach as a company, which they call the "2020 Sustainability Goals". These goals not only encompass environmental goals, but philanthropic goals and business goals as well.
In terms of environmental sustainability, Burt's Bees is taking major strides to be one of the most eco-friendly brands in the world. The biggest goal for 2020 in terms of the environment is that they plan to be 100% carbon neutral. This is done by offsetting their carbon emissions through the support of other pro-environment initiatives. In other words, for the amount of carbon they are emitting through production, they invest in environmental projects to offset that amount. They do this by sponsoring the landfill gas projects NC Green Power, which promotes the use of renewable energy in North Carolina. Burt's Bees also partners with Natural Capital Partners, which helps provide fuel-efficient stoves to families in Uganda, where indoor air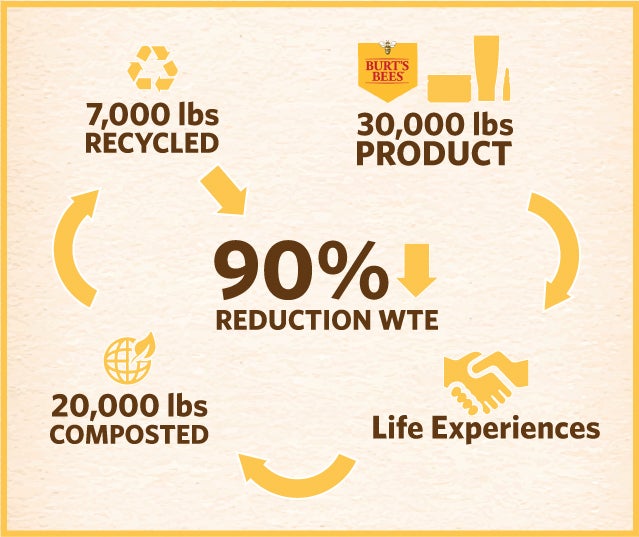 pollution through cooking is a big health concern. Also, they have invested in Double Time Capital, which is a renewable energy company. Their investment has helped to power some North Carolina homes with solar energy that is built to last a lifetime. Burt's Bees is also a zero waste organization, and they haven't sent any waste to landfills in over six years. They also make every tube of lip balm with recycled plastic, which will eliminate a large amount of plastic from their production process, as well as saving them money from producing plastics.
From a philanthropic standpoint, Burt's Bees has set a precedent that I think all businesses should strive for. Not only are they giving back to their community, but they also have a sustainable future in mind. For example, they have developed over 10,000 bee foraging sites and funded over 6,000 acres of bee-friendly farmland. This practice gives jobs to a number of farmers as well as promoting sustainable farming techniques. Also, thanks to the Bring Back the Bees Campaign, which raised awareness about the declining populations of bees, they donated over $270,000 to the Rural Advancement Foundation. This foundation helped to plant wildflowers on North Carolina farmland which supports healthy pollination. Burt's Bees has also invested in 10 Global Supplier Communities. These communities help them to resource their raw material sustainably and responsibly while also partnering with non-profit and other organizations to help provide opportunities for people living in these communities.
When it comes to the triple-bottom line, Burt's Bees is doing everything right to thrive in all three areas. Environmentally, they are promoting sustainable farming, renewable energy, zero waste, and carbon neutrality. Socially, they are giving back to their community through farming projects, as well as other social projects that give jobs to individuals in need. Finally from an economic standpoint, they are saving money through recycling plastics as well as making an affordable product that is easily accessible and distributed.
http://demandware.edgesuite.net/aapa_prd/on/demandware.static/-/Sites-burtsbees-Library/default/dw27742f44/redesign/about-us-landing/2020_goals.pdf