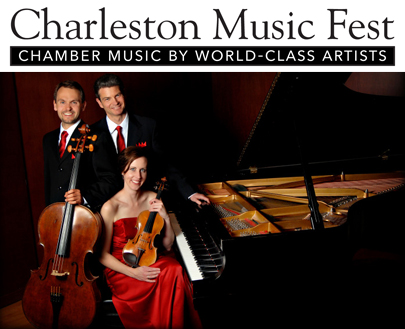 After having performed chamber music together for years with great success, pianist David Gross, violinist Deirdre Hutton and cellist Christopher Hutton founded the Poinsett Piano Trio, in 2008. This Greenville, S.C.-based ensemble will open the 2016-17 season of our Charleston Music Fest series. The trio will perform Ludwig van Beethoven's Piano Trio in E-flat major, Op. 70, No. 2 (1808) and Felix Mendelssohn's Piano Trio No. 2 in C minor, Op. 66 (1846).
DETAILS: Charleston Music Fest presents intimate chamber music concerts featuring College of Charleston faculty, and local and international artists. The performance will take place on Thursday, Sept. 15, 2016 at 7:30 p.m., at the Recital Hall in the Simons Center for the Arts, 54 Saint Philip St. General admission is $25 and $15 for all students. Tickets and season subscriptions can be purchased at go.cofc.edu/cmf, by calling (843) 953-6315, or at the door. 
The ensemble is named in honor of Joel Roberts Poinsett, a statesman, physician, and botanist from South Carolina. Like the members of the trio he had an international life:  living in England as a child, training in medical school in Scotland, traveling extensively in Europe and South America, and was later elected as a member of Congress before serving as Minister (ambassador) to Mexico. Poinsett is most remembered today as the discoverer of the Mexican Poinsettia plant. The Poinsett Piano Trio, who are faculty members at Furman University, has performed on tour in New Zealand (2010, 2013), and Germany (2012), as well as across the United States. 
2016-17 Charleston Music Fest Series
Sept. 15, 2016 | Poinsett Trio
Feb. 13, 2017 | Natalia Khoma, cello; Volodymyr Vynnytsky, piano
April 13, 2017 | Ilya Kaler, violin; Yuriy Bekker, violin; Natalia Khoma, cello; Volodymyr Vynnytsky, piano