"Lori Phillips, … in the role of Brünnhilde, was in excellent voice, pouring out high notes of thrilling quality and exhibiting a graceful ease throughout her middle register…"

– Melinda Bargreen, Special to The Seattle Times, 8/10/13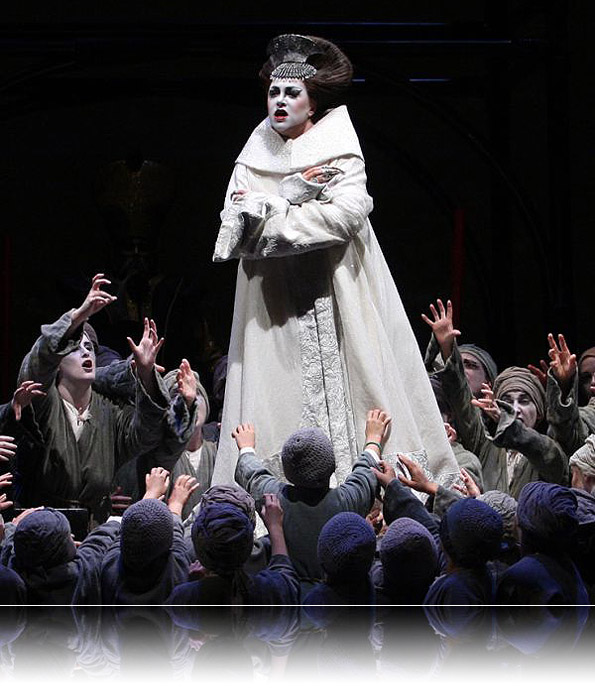 As part of the College of Charleston School of the Arts' Remington Master Artists Series and the Monday Night Concert Series, soprano Lori Phillips will deliver an exciting performance, accompanied by pianist and College of Charleston faculty member, Robin Zemp. UPDATE: Bass-Baritone Jay Baylon will sing in select pieces. They will present works by Franz Schubert and Richard Wagner, beginning with songs and progressing into opera selections (repertoire listed below). The event will take place on Mon., Sept. 16, 2013 at 8 p.m., in the Recital Hall of the Simons Center for the Arts, 54 Saint Philip St. Admission is $10 at the door and free for College of Charleston students with I.D. Listen to clips of Phillips performing.
Soprano Lori Phillips is widely acknowledged as possessing one of the most exciting and expressive dramatic voices in opera. In 2010, she made her Metropolitan Opera debut as Senta in "Der Fliegende Holländer" which was broadcast live on Sirius Satellite Radio. Also in 2010, Phillips made her role debut as Brünnhilde in "Die Walküre" with Hawaii Opera Theater. Opera News praised, "Soprano Lori Phillips was a terrific Brünnhilde: her voice started out in excellent form and kept getting better, her clarion upper register sending chills down one's spine." In 2013 she performed Senta in "Der fliegender Holländer" with Michigan Opera Theater and Arizona Opera and covered Brünnhilde in "The Ring Cycle" at both the Metropolitan Opera and Seattle Opera. Read Phillips' extensive bio here.
Winner of the 1996 George London-Kirsten Flagstad Memorial Fund Award, bass-baritone Jay Baylon has won critical acclaim for both operatic and concert appearances. His commanding vocalism and thoughtful musicianship allow him to pursue a broad repertoire, ranging from the cantatas of JS Bach to the music dramas of Richard Wagner. He is known to opera and concert audiences throughout North America with performances at the San Francisco Opera, The Washington National Opera, Arizona Opera, The Canadian Opera Company, Arizona Opera, Pittsburgh Opera, New Orleans Opera, Nashville Opera, Kentucky Opera, Knoxville Opera and Sarasota Opera. Concert appearances include Shostakovich's 14th Symphony, Beethoven's Missa Solemnis, Dvorak's Stabat Mater, Mozart's Mass in C minor and Requiem, Bach's St. Matthew Passion, and Verdi's Requiem.
Pianist Robin Zemp made his New York debut at Carnegie Recital Hall in 1984 to both public and critical acclaim. "The New York Times" praised his "intriguing coloristic effects" and "strong, firm, and secure" playing. In constant demand as both soloist and ensemble player, he performs over 30 different programs each season. On the faculty of the College where he teaches piano and vocal coaching, he also maintains a private studio. His students have won many state and regional competitions and awards. He has served in many capacities with the South Carolina Music Teachers Association including President and Vice-President for Conferences. Director of Music/Organist at Westminster Presbyterian Church, he is a graduate of the Peabody Conservatory of Music in Baltimore.
The Remington Master Artists Series
The Remington Master Artists Series endowment was established in 1987 to bring the finest musicians and teachers to the College of Charleston for a public performance and at least one master class for students majoring in their disciplines. Master Classes provide students with unique learning opportunities to broaden their perspectives and to work with artists other than the College's own resident faculty members. The series also serves as a showcase for these artists to provide the College and the greater community with a sampling of outstanding musical talent from throughout the country.
The Series is named after Emily Remington, who has epitomized the concept of master artist/teacher throughout her distinguished career and has given pleasure to music lovers for many years.
In 1976, she came to live in Charleston from Augusta, GA. She served as Organist/Choirmaster at Grace Episcopal Church from 1977-1996. She organized the "Singers Guild of the Charleston Symphony Orchestra" in 1978, which is now known as the Charleston Symphony Chorus. The chorus was known for the many concerts in area venues, but principally by the colorful Christmas Concert and Songs of the South in the Ashley Hall Garden.
At the College of Charleston, Ms. Remington was Adjunct  Professor, an later an Assistant Professor; she taught piano, music appreciation, conducting and served as accompanist in the vocal studios, for the College Choir and for many of the college concerts. In addition, she was accompanist for Menotti operas and other recitals during the first two years of the Spoleto Festival. She was the first coordinator for the Piccolo Spoleto Festival of Churches, and is now a member of the committee.
Remington retired from public performance in 1996 at the age of 80 and now resides at Franke at Seaside.
Concert Repertoire
Franz Schubert (1797-1828):
Nacht und Träume ("Night and Dreams") D. 827; Op. 43, No. 2
Du bist die Ruh ("You Are Rest") D. 776; Op. 59, No.3
Lachen und Weinen ("Laughter and Tears") D. 777; Op. 59, No. 4
An die Musik (To Music) D. 547; Op. 88, No. 4
    -Jay Baylon, Bass-Baritone
Gretchen am Spinnrade  ("Gretchen at the Spinning-Wheel") Op. 2
Richard Wagner (1813-1883):
"Meine ruh is hin"  (Gretchen am Spinnrade) from 7 Compositions to Goethe's Faust
"Wie aus der ferne Langst vergang'ner Zeiten…" (As from the far-off past a vision gleaming…) Duet from Der fliegende Holländer  (The Flying Dutchman)
     -with Jay Baylon, Bass-baritone
Wagner RING Excerpts:
Brunnhilde's Ruf (Call or battle cry) "Hojotojo" from Die Walküre
"Ewig war ich, ewig bin ich…" (Ever was I, ever am I…) from Siegfried
"Wie sonne lauter strahlt mir sein Licht… Ruhe, ruhe, du Gott!" (Purer than sunlight streams the light from his eyes…Rest, rest, you God!)
   –Excerpt from the Immolation scene from Gotterdammerung.