Archives For November 30, 1999
King's and Dalhouse University will be hosting a pre-conference panel at 3pm, November 1, 2021 on the theme of Slavery and Reparations: African Nova Scotia, Canada and Beyond. The panel discussion will feature Dr. Andrea Douglas, Director of the Jefferson School African America Heritage Centre in Charlottesville, Virginia; Cikiah Thomas, Chairperson of the International Working Committee of the Global African Congress; and Delvina Bernard, a PhD candidate at Saint Mary's University in Halifax, Nova Scotia studying reparations and reparatory justice. The event is in anticipation of the 2023 Universities Studying Slavery Conference that will be held in Halifax, Nova Scotia.
The panel will be followed at 6pm by a keynote lecture by Sir Hilary Beckles, a noted professor and lecturer on social justice and minority empowerment. Dr. Afua Cooper, professor of Black Canadian history at Dalhousie University, will be the Discussant.
Attendance is free and the event will be held over Zoom. Click here to register.
For additional information on the event and participants, download the full flyer.
Dr. Grant Gilmore, chair of the Historic Preservation and Community Planning program, and Dr. Julia Eichelberger, director of the Southern Studies program, represented the College at the Fall 2018 meeting of the consortium Universities Studying Slavery, held at Tougaloo College in Jackson, Mississippi. They participated in 2.5 days of discussion at Tougalou College with representatives from dozens of universities. They also toured the new Mississippi Civil Rights Museum and the Medgar Evers House.
Now, the College of Charleston has announced it will go even further in confronting its past and examining the impacts of history by establishing the Center for the Study of Slavery. Bernard Powers will serve as the center's first director, a part-time position he expects to hold during the start-up phase.
READ MORE at https://www.postandcourier.com/features/new-center-for-study-of-slavery-to-examine-troubled-charleston/article_c460061c-c74d-11e8-b33e-6fd328f05ac3.html.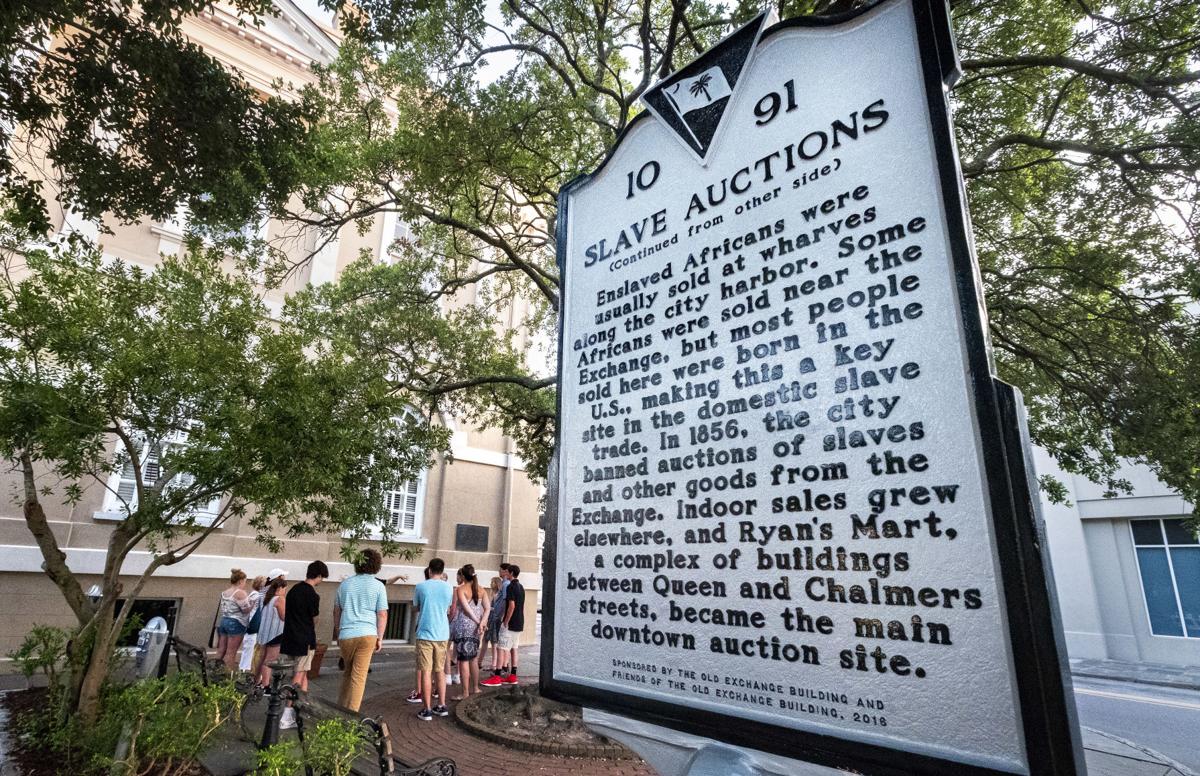 Credit: Post & Courier, Matthew Fortner
We are excited to announce that yet another South Carolina school has embarked on a process of confronting its own difficult past. The Universities Studying Slavery movement continues to grow. Please welcome the College of Charleston.
College of Charleston students and faculty are researching slavery and its legacies in departments and programs across campus, including History, English, African American Studies, Art and Architectural History, Historic Preservation and Community Planning, Latin American and Caribbean Studies, Teacher Education, Southern Studies, Religious Studies, Music, Political Science, Archaeology, Anthropology, Sociology, Jewish Studies, the Charleston Jazz Initiative, the First-Year Experience, and the Sustainability Literacy Institute. Dozens of historic buildings on the school's campus, containing a wealth of historical material, are inspiring students and faculty to research the individuals who constructed them, including enslaved laborers. Avery Research Center, a highly significant archive and community leader housed in another historic structure, works to "collect, preserve, and promote the unique history and culture of the African diaspora, with emphasis on Charleston and the South Carolina Lowcountry." The College's Addlestone Library houses the school's Special Collections and the South Carolina Historical Society, both containing extensive archival material documenting the history of slavery in the region. Addlestone's Lowcountry Digital Library is continuously digitizing more archival materials and creating ambitious open-access online exhibits, such as African Passages, Lowcountry Adaptations.
For two decades the Program in the Carolina Lowcoutry and Atlantic World (CLAW) has promoted scholarship and public events related to the history of slavery. Recent international conferences include Transforming Public History: From Charleston to the Atlantic World (2017) and Freedoms Gained and Lost: Reinterpreting Reconstruction in the Atlantic World (2018).
The College of Charleston says that its membership in Universities Studying Slavery will spur the school to be more intentional in disseminating  research and in collaborations within and beyond the institution. More College of Charleston initiatives will be announced in the coming months. The school looks forward to a mutually beneficial relationship with USS as they continue to develop an in-depth and honest account of its own past.
We look forward to the College of Charleston collaborating with nearly forty other schools in the coming months.
Read more at http://slavery.virginia.edu/the-college-of-charleston-joins-universities-studying-slavery/.